After Dr. Niki learnt this 11 years ago, she got her first RM1,000,000 income.
Now you can too!
Your Mission in Commission
After you attend this powerful seminar, you will find yourself finally and forever stepping across the line that separates so many struggling salespeople from those who win big - month after month and year after year. You will learn the six basic concepts you MUST understand before you will ever earn large commissions, and the one fundamental step you must develop to earn RM1,000,000++ and live a fabulous lifestyle. Then, you will begin doing it!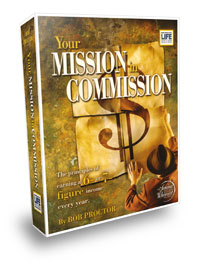 Bob Proctor used the principles contained in this system to raise himself from a modest salaried position to USD1,000,000+ annual commissions. Using the Mission In Commission system, Bob has taught thousands of salespeople around the globe to do the same.
As a commissioned salesperson, you have the opportunity to earn the exact amount of money you need, to provide the things you want, to live the way you choose, regardless of how high that amount is.
It's about making those vitally important inner changes that separate the successful from the rest of the pack. You must become a top producer in your own mind before you can be one in fact.
In this powerful seminar, Dr. Niki will show you the exact system, authorised from Bob Proctor, for earning 7-figure incomes every year - and how to have fun doing it.
You'll learn:
6 concepts you MUST understand before you will ever earn large commissions.
How to let go of the past and start with a clean slate that allows you to choose EXACTLY how much you will earn.
The one thing you MUST develop if you want to earn RM1,000,000++ income while living a fabulous lifestyle.
How to develop a "Magnificent Obsession" that makes your work fun and your commissions soar.
The only 3 factors that determine how much money you earn - and why fewer than 1% of salespeople ever benefit from them.
The PROVEN plan for earning 7-figure commissions each and every year.
Register Now for the 1-day Powerful Seminar:

Venue:
The Concorde Hotel
Time and Date:
Sunday 16 August 2009 - 9am to 5pm
Seminar fee:
RM450
, Early-bird seminar fee by 6th August 2009:
RM380
Group booking, for every 5 pax, by 6th August 2009:
RM350 per pax